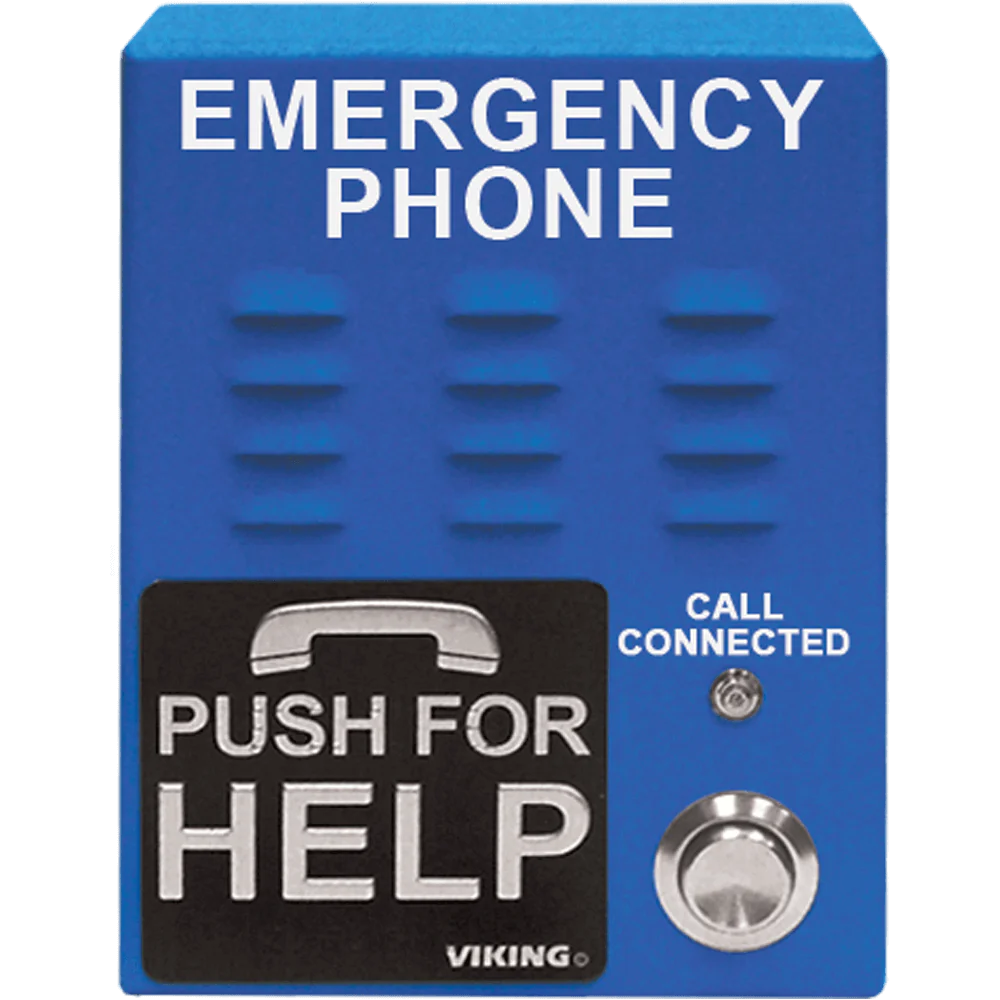 Viking E-1600-65A-EWP Handsfree Blue Phone with Dialer/Announcer:
E-1600-65A Phone Features:
Meets ADA requirements for Emergency Phones:
Can automatically light the "Call Connected" LED for the hearing impaired
Transmits a unique location I.D. code or voice announcement
Grade 2 Braille label for the visually impaired
Non-volatile digital voice announcer with 16 seconds of voice memory
Advanced call progress detection
Handsfree operation
Phone line powered
Non-volatile memory (no batteries required)
Marine grade 316 stainless steel prevents corrosion on stainless models
Dials up to 5 emergency numbers
Cycles through backup emergency and non-emergency numbers on busy or no-answer
Optional Enhanced Weather Protection (EWP), EWP products are designed to meet IP66 Ingress Protection Rating, see DOD# 859
Hangs up on CPC, silence, busy signal, dial tone, time-out or touch tone command
Programmable to auto-answer on incoming calls
Remotely programmable
Extended temperature range (-15°F to 130°F)
9 different chassis or board only available
Central Station Monitoring capability (dials 2 numbers)
Optional PB-100 Polling System available (DOD# 232)
Optional BLK-3-EWP strobe light kit available (DOD# 653)
Safety First Wireless stands as a pioneering leader in the cellular gateway industry, offering cutting-edge solutions for robust and reliable communication systems. One of their standout offerings is the state-of-the-art emergency Blue Light Phones specifically designed for college campuses, public parks, and large communal spaces.
These high-visibility devices integrate advanced technology, providing not just immediate access to emergency services but also features like real-time location tracking and monitoring, all contributing to a new standard in certified life safety.
What sets the company apart is its exceptional customer support, anchored by its USA-based phone support team. Available 24/7, this in-house team of experts offers quick and efficient solutions, giving clients the peace of mind that help is always just a phone call away. This commitment to customer care is invaluable, especially in the realm of emergency communications where every second counts.
By melding technological innovation with top-notch, domestic customer service, Safety First Wireless has solidified its reputation as an industry leader committed to both quality and safety. With its comprehensive solutions, the company is not just providing products but is actively enhancing the safety landscape of communal spaces.